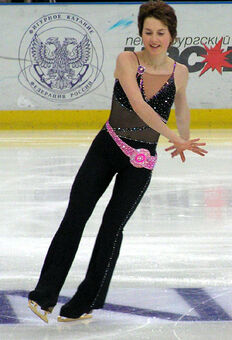 Irina Slutskaya (born Irina Eduardovna Slutskaya on February 9, 1979 in Russia) is a former Russian figure skater.
She is a two-time World champion (2002 & 2005), two-time Olympic medalist (silver in 2002, bronze in 2006), seven-time European champion (1996, 1997, 2000, 2001, 2003, 2005 & 2006), a four-time Grand Prix Final champion (2000–2002 & 2005) and a four-time Russian national champion (2000–2002 & 2005).
She is known for her athletic ability and was the first female skater to land a triple lutz-triple loop combination.
Irina is also known for her trademark double Biellmann spin with a foot change, which she also invented. With her women's record seven European titles she is generally considered to be the most successful ladies' singles skaters in Russian history.
Season
Short program
Free skating
Exhibition
2005–2006

Mario Takes a Walk
by Jesse Cook
Rhumba
Flamenco
by Didulia

2004–2005

---

2003–2004
2002–2003
2001–2002

---

---

---

2000–2001

---

---

1999–2000
1998–1999

Ballet For Carolyn Carlson

1997–1998

---

Ah, Nastasia
by Ossipov Balalaika Ensemble

---

1996–1997

Il Bel Canto
(from The Phantom of the Opera on Ice)
by Roberto Danova

Overture (Dance of the Four Muses)
(from The Phantom of the Opera on Ice)
by Roberto Danova

---

1995–1996
1994–1995

The Heart of Budapest
Heire Kati
by Vidor, Monti, Hubay

1993–1994
Competition Results
Edit
Records & Achievements
Edit
Invented the double Biellmann spin with foot change
First Russian woman to win European title (1996)
First woman to land triple lutz-triple loop combination in competition (2000 Grand Prix Final)
First woman to land a triple salchow-triple loop-double toe loop combination (2001 World Championships)
First Russian woman skater to win a silver medal at the Olympics (2002 Salt Lake City)
Four-time Russian Nationals champion
Record holder for most Grand Prix Final titles won by a woman (record later tied by Mao Asada)
First (and only) woman ever to win seven European titles (2006)